These Are the Best Flooring Materials for Your Bathroom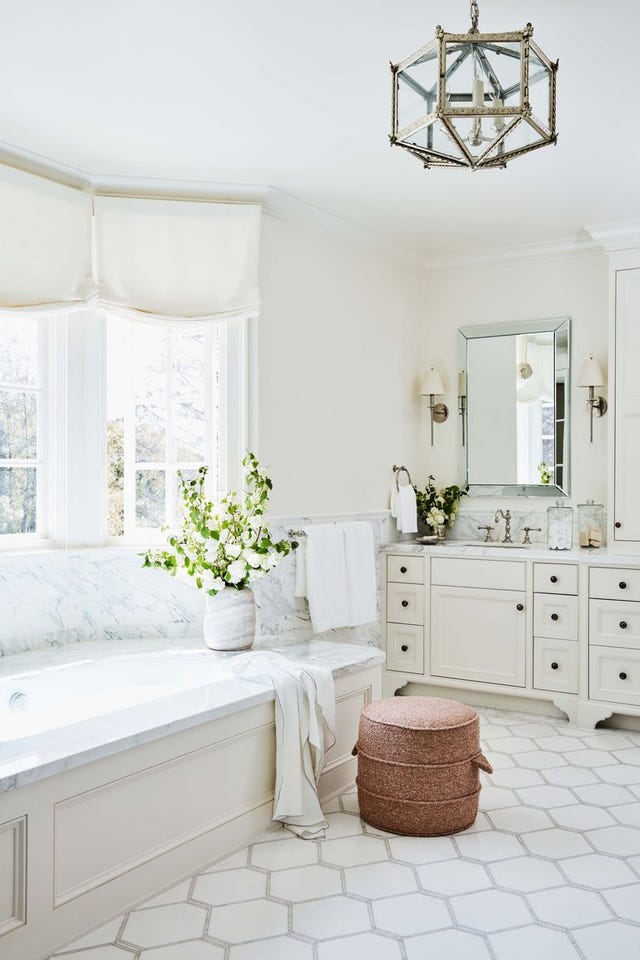 JOE SCHMELZER, TREASURBITE STUDIO
Thinking of remodeling your bathroom? Flooring might be at the bottom of your checklist—but it's just as important as all the fixtures and built-ins (if not, more so!). A bathroom floor needs to be highly durable—not to mention, look and feel good underfoot.
"Waterproof floors are your best bet for bathrooms, especially ones with showers and tubs," says LL Flooring expert Jennifer Meska, who recommends the brand's Duravana Hybrid Resilient planks. "Waterproof floors will give you peace of mind when your kids or pets are splashing over the side of the tub, or when you forget the floor mat after stepping out of the shower."
By far the most ubiquitous bathroom floor material? Tile. "It really is the best for bathroom floors," asserts Jill Byrnes, VP of marketing and merchandising at The Tile Shop, since it's the only material that is 100% waterproof, she explains. "Tile is a timeless material with a huge variety of shapes and styles, from modern to traditional, and can be customized with grout selections and pattern layout," Meska adds. "Bathrooms are a great opportunity to try out a new style, especially something that may feel too bold for a larger room."
Among this year's bathroom flooring trends are zellige tiles (a handcrafted ancestor of the ubiquitous subway tile), which have softer edges, imperfections, and variations in color, Byrnes reveals. "On the flip side, we've seen many people loving a more glamorous look and using tiles that are marbled, mirrored, or gilded."
When it comes to shower stalls, opt for smaller tiles, which offer more traction. "Larger tiles with fewer grout lines can be slippery when wet," Byrnes says. But there are plenty of alternatives to consider, from concrete to natural stone. And if you're looking to DIY your bathroom floor, "rigid vinyl planks and waterproof laminate have easy-click installation systems and require minimal tools," Meska notes. Luxury vinyl tiles have been growing in popularity, since they're often marketed as waterproof—though most "are not warrantied against damage when fully wet," Byrnes cautions.
Whichever material you choose, proper installation is essential. "It's a critical part of any bathroom project, since it's a high-moisture environment," Byrnes says. From subfloor preparation to the final finishes (like waterproof moldings), attention to detail is crucial to the success of any DIY flooring project. "The key is to make sure you have all the right materials beyond the tile. The thinset, grout, sealants and tools you use can be the difference between a professional-looking installation and a fail."
Meska agrees that investing in quality products is a must: "Most bathrooms have relatively small footprints, so choosing a premium product doesn't significantly add to the total cost of the project," she reasons. "For example, if your bathroom is 100 square feet, spending an extra $1 per square foot on is only $100 more for a renovation project that may cost thousands of dollars."
A common rookie mistake? "Not choosing the right grout color," says Byrnes, pointing out that light grout can be difficult to upkeep in the long run.
One amenity worth the splurge: in-floor heating. "It's an affordable luxury every bathroom should have," she insists.
---
Follow House Beautiful on Instagram.
This content is created and maintained by a third party, and imported onto this page to help users provide their email addresses. You may be able to find more information about this and similar content at piano.io